The 2021 Subaru Love Promise Customer and Community Commitment Award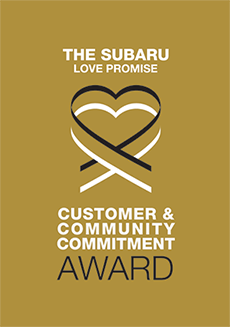 We've been nationally recognized for our dedication to our customers, our community, and the Subaru Love Promise.
We're honored to receive the 2021 Subaru Love Promise Customer and Community Commitment Award. This award nationally recognizes elite Subaru retailers who provide an exceptional customer experience at every interaction with Subaru. These retailers have also demonstrated an outstanding commitment to supporting passions and causes in their local communities in important areas such as the environment, community, health, education, and pets.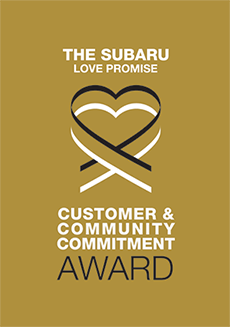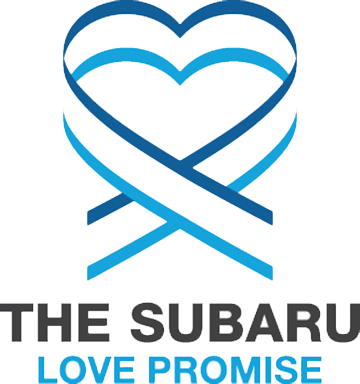 What is the Subaru Love Promise?
Subaru and our retailers believe in making the world a better place and the Subaru Love Promise is our vision of respecting all people. This is our commitment to show love and respect to our customers and to work to make a positive impact in the world.
How is Yark Subaru dedicated locally to the Love Promise?
Yark Automotive Group is committed to being an good corporate citizen by creating lasting partnerships with organizations dedicated to uplifting the community in which we live. We are proud to be a part of the Subaru Love Promise.
Planned Pethood, 4 Paws Sake, Lucas County Canine Care & Control
Toledo Botanical Gardens, Metroparks Toledo
Ottawa Hills High School, Stranahan Elementary School
Racing For Recovery, Toledo Children's Hospital, The Leukemia & Lymphoma Society Northern Ohio Chap
Love Promise Stories from Yark Subaru
Subaru and Yark Subaru believe in making a positive impact on the communities in which we live and work. We uphold that belief through our Love Promise Community Commitment. Every month, we select inspiring stories from customers and partners from around our area who strive to support our collective commitment and feature them here
Subaru - Helping Planned Pethood Save Lives! - Amber B
Planned Pethood, Inc has long enjoyed a mutually supportive relationship with Yark Subaru. Because of this, we're able to fulfill our mission to help the homeless cats and dogs of NW Ohio. We're also able to help the pet owners who continue to struggle due to the events of 2020-21 and, for some, just life. A perfect example is that of a man who recently and suddenly became homeless. He found assisted living for himself, but unfortunately his beloved senior husky, Ira, couldn't join him. He looked at his options but simply couldn't afford to either board him or to even have him humanely euthanized. In desperation, he arranged for a farmer to shoot Ira.We got word and immediately offered our shelter and support. What we found was a wonderful dog, a dog who still enjoys long walks, car rides and just being with his human.Immediate interest to adopt was shown, and Ira is now living his best life with his new mom, dad, sister and 3 canine siblings. Or how about is Stella, a beautiful pit mix who was ready to give birth on a shelter floor. We got the alert and turned to our volunteers.One of our incredible fosters stepped up, and within days, Stella was snuggled on a comfy blanket ready to deliver 7 stunning babies.When ready, all of the puppies were immediately adopted. And Stella? She was spayed and went to live with one of our previous adopters. She's enjoying life with with her new family that includes 6 human siblings! Her new 4 legged sister Bella (who also came to us pregnant) and she are best buds. We like to think that they know that they're two of the fortunate ones. Thank you Yark Subaru for allowing us to raise our hands to these and many more who so desperately need us. We want more to be a part of the fortunate ones.
---
Care For The Most Vulnerable In Our Community - Nikki M
The donation of nearly 100 thermal, water resistant blankets from Yark Subaru will have a lasting impact on Cherry Street Mission Ministries and individuals experiencing homelessness. We can rest assured that should an emergency occur, like the usual cold weather we can expect in Northwest Ohio, we can respond to it. Strategic partnerships toward holistic health is one of the many ways Cherry Street and Yark Subaru are creating an impact on the community. Working together we can address the needs of those who are hungry and together we can start #FeedingFutures.
---
Supporting Outdoor Experiences for All! - Ally E
Yark Subaru is a truly incredible community partner! Thanks to Yark Subaru's support, Metroparks Toledo was able to build the incredible Cannaley Treehouse Village, which opened to the public this year. The Treehouse Village is an entirely unique outdoor experience that includes overnight and daytime experiences within a six-person, a four-person and two two-person treehouses plus three tent platforms. The Village provides a close, safe and unique experience in nature, which has become even more important during these times. But that's not all! In addition to helping fund the treehouse construction, Yark Subaru has provided support for our summer campers to experience the Village each year and for outdoor activities, like the Outdoor Expo. Yark Subaru is an incredible partner in helping us engage our community with high-quality outdoor experiences. We are grateful!
---
Yark Subaru helps PPI Save Lives - Doy D
There are two things Planned Pethood, Inc knows for sure. First, in a year of unprecedented hardship and struggle, the vast needs of homeless cats and dogs are amplified. Second, we can always count on the help and support of Yark Subaru. Period. When the phone call came from Dave Boehm telling us that we had been selected to benefit from the October Yark Loves Pets event, we were beyond thrilled, honored and THANKFUL! This kind of support energizes us. It confirms that we're doing the right thing, that our mission is important. And that we're being heard. The help of Yark Subaru allows us to bring in a dog like Ziva (pictured), a puppy who was paralyzed in her back legs due to an injury and would need the help of our experts. The help of Yark Subaru allows us to bring in pregnant dogs and cats that will require extensive care and vetting. The help of Yark Subaru allows us the luxury of being able to provide proper training to dogs with behavior issues. We can never and will never take this help and support for granted. We will continue to strive to be the best partner we can possibly be.
---
Yark Subaru x Marathon LPGA Classic - Mike B
The Marathon LPGA Classic is proud of our partnership with Yark Subaru and their continued support of the annual Marathon LPGA Classic which benefit children's charities in NW Ohio, SE Michigan & Findlay. This year the support helped raise $600,000 for 25 area charities which sets the tournament over the $12 million mark while helping over 190 charities over the past 36 years. With 2020 being a year that we all will never forget & tough on the community we applaud Yark Subaru for their generous support & giving to make this community event possible in a year like this. Thank You!!!
---
Yark Subaru x Marathon LPGA Classic - Mike B
The Marathon LPGA Classic is proud of our partnership with Yark Subaru and their continued support of the annual Marathon LPGA Classic which benefit children's charities in NW Ohio, SE Michigan & Findlay. This year the support helped raise $570,114 for 23 area charities which sets the tournament over the $11 million mark while helping over 175 charities since established in 1984. The generous support of Yark Subaru makes this community event possible so we Thank You!!!
---
Sylvania Cycling Classic - Nick M
The Maumee Valley Wheelmen would like to send a huge thank you to Yark Subaru. Yark Subaru supported the annual Sylvania Cycling Classic bike race. This race brought racers and fans across the region together for a full day of racing in downtown Sylvania, OH. The day's events also included a free kids race and BMX stunt show. The event always is a hit with the local community. Again, the Maumee Valley Wheelmen would like to thank Yark Subaru for their support to the club and local community. We couldn't have done it without you!
---
Always Above and Beyond for Animals x 2 - Doy D
Year after year, Yark Subaru has shown the love when it comes to supporting Planned Pethood in its mission. 2019 was a big year for PPI, and Yark Subaru was by our side every step of the way. Our annual Paw Hoorah was the best ever (seriously....what a party!), much in part because of the corporate support we receive. On top of that list sits the name of Yark Subaru. Their donation is generous and their participation enthusiastic. They don't just send a check. They attend, they enjoy and they spend! 2019 offered a second opportunity to help us out. This year marked 40 years that Planned Pethood has been advocating spay and neuter as well as finding forever homes for dogs and cats. Throwing a party for the community was a no-brainer....we had to! But, again, we needed help. Without a hesitation, Yark was 100% yes. AGAIN, always there for us. The best! Thank you!
---
Reaching New Heights - Ally E
Yark Subaru is a truly incredible community partner! Their support of Metroparks Toledo will help us build the largest public treehouse village in the country, creating an entirely unique experience in nature. The Cannaley Treehouse Village will include a large common treehouse; a six-person, a four-person, two two-person treehouses for overnight stays and three platforms for camping in tents or hammocks. This project will be paired with a new 12-mile mountain bike trail and a 500-acre Beach Ridge Area of Oak Openings for both local and out-of-town visitors to enjoy. Yark Subaru is also ensuring that each Metroparks Connections Camp participant will be able to visit the treehouse village. Connections Camp provides free summer camp to over 700 campers from throughout the community at no cost to their families. And, we can't forget their support of Metroparks Outdoor Expo, helps us engage over 3,000 people of all ages in outdoor recreational activities in our Metroparks. We couldn't ask for a better partner! Thank you Yark Subaru for your investment in our parks and community!
---
Racing for Recovery - Todd B
Since 2001, the mission at Racing for Recovery has been to prevent all forms of substance abuse by promoting a lifestyle of fitness and health for all those affected by addiction. The support of Yark Subaru has allowed us to continue to make that mission a reality for so many people! Through the generosity of Yark Subaru we have been able to purchase additional kayaks to take people on healthy fun excursions, as well as add additional fitness equipment to our gym. Every dollar from donations to Racing for Recovery goes right back to the amazing people that enter our doors to help them realize that "With Sobriety, Anything is Possible"! Thank you Yark Subaru!
---